GCGA is a domestic nonprofit corporation exempt from Federal income tax under Internal Revenue Code Section 501(c)(3).  The GCGA programs and services are made possible through the generosity of many individual and corporate supporters.
We believe all students should be able to participate in music education, regardless of economic status.  Socioeconomically challenged students are provided full scholarships to participate in the HCGFest.  These scholarships have facilitated the students' dedication to music and development of the discipline needed to become successful in core academic areas.
GCGA will continue to grow and pursue its mission through the efforts of volunteers and generosity of donors and supporters.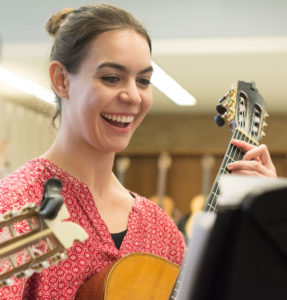 Donate
Your support will allow us to bring some of the world's best classical guitarists to Houston in support of our mission to foster creativity and artistic growth, and to create a sense of community through the classical guitar for guitarists and aficionados alike. The actual cost of GCGA programs is significantly subsidized through fundraising efforts. Most of our income comes from contributors like you.
Sustaining Contributions
GCGA strives to bring music to the community through outreach events at Houston area schools and retirement communities plus the annual Houston Guitar Festival and Competition. Sustaining contributions provide a dependable, source of funding for these programs. Donations can be scheduled monthly, quarterly, semi-annually or annually. Donors can plan to donate indefinitely or specify an end date. Your donation plan can be easily changed online.
Gift Matching
Many employers offer matching gift programs and will match charitable contributions made by their employees. If your company has a matching gift program increase your contribution to the GCGA by following company's matching gift program instructions when you give. If you have questions about your employer's matching gift program please contact your employer directly.
Salon Concerts
GCGA presents fundraising concerts in private homes and businesses to help fund our programs. Kindly consider a concert in the intimacy of your home or in your business venue to support GCGA in furthering its mission. For further information about salon concerts please contact the Artistic Director Jay Kacherski at jkacherski@gmail.com.
Sponsor a Concert
GCGA extends benefits to its concert sponsors to meet the specific needs of individual, corporate and foundation sponsors. For further information about sponsoring a concert please contact the GCGA President Nadene Crain at nacrain@comcast.net.
Advertise
For businesses that would like to show their support for outstanding GCGA programs in our community, consider advertising in the annual Houston Classical Guitar Festival and Competition booklet. You help support our students while advertising your goods or services to our audience. For further information about advertising please contact the GCGA President Nadene Crain at nacrain@comcast.net.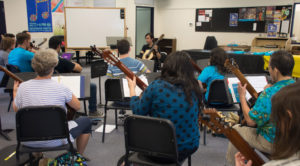 Thank you in advance for your support and interest