Mission
The mission of the Gulf Coast Guitar Association is to promote fine arts and education, to foster creativity and artistic growth, and to create a sense of community through the classical guitar for guitarists and aficionados alike
Core Values



Educational excellence

Artistic excellence

Organizational excellence and financial stewardship
Background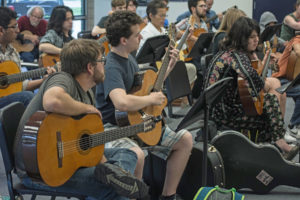 Gulf Coast Guitar Association was established in 2016 as a nonprofit corporation dedicated to classical guitar education and performances in the greater Houston area. Our programs promote fine arts, provide an opportunity for lifelong learning and create a sense of community among classical guitar lovers.
Our major project is the annual Houston Classical Guitar Festival and Competition, a 6-day festival held each June comprised of concerts, competitions, workshops, lectures, master classes, private lessons and guitar orchestra. The festival concludes with two nights of concerts open to the public featuring guest artists selected from among the world's most notable classical guitarists today. Our reputation for quality and excellence grows each year and many participants return year after year as they know each year will be different and their experience will be unique.
In addition to activities provided during festival week in June, we are active throughout the year with concerts in Houston, Nasssau Bay and Clear Lake. We continue to look for venues to present a variety of classical guitar programs to the public in the greater-Houston area.
Outreach Programs augment the guitar programs in Houston area schools and area colleges and provide concerts to residents of retirement communities and to patients and staff in hospitals. We continue to explore new ways to reach out to the community.
Organizational Goals and Objectives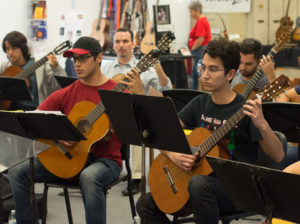 Since obtaining 501(c)(3) status, the Gulf Coast Classical Guitar Association, has striven to be the leading nonprofit organization dedicated to classical guitar in the Houston, Texas area. To do this, we strive to:
Build a financially sustainable organization to support the mission of the Gulf Coast Guitar Association.

Provide a classical-guitar-based outreach program to the greater Houston area.

Bring to Houston the most prestigious classical guitarists from around the world to teach and perform in a city where audiences often do not have an opportunity to hear artists of this caliber.
Grow the level of local, national and international participation in the Houston Classical Guitar Festival annually.



Grow organization size and competencies to achieve goals and objectives more efficiently.
Populations Served
Classical guitar is an instrument that is loved and appreciated by all nationalities and all age groups. Historically, many of the great masters of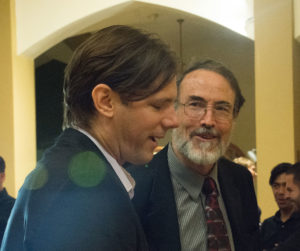 guitar came from Spain, Mexico, Cuba, Latin America and South America. Today, the instrument is also played widely throughout China and many Asian countries. We see this reflected in our concert and festival audiences. For those who enroll in the Houston Classical Guitar Festival, approximately 57% are Hispanic, 33% Anglo and 10% Asian and other. Participants range in age from retirees to middle school students.
Geographic Areas Served
While our concerts are in the greater-Houston area, our annual festival is centrally located in the Galleria Area of Houston - a major transportation hub in the city.  This location is convenient to both Houston Intercontinental Airport and Hobby Airport.  Students and guitar aficionados alike come each year from throughout the United States and the Americas to attend this festival.
Our guest artists have come from the most prestigious music conservatories and university guitar programs in the United States and internationally.  Some came from other countries who now reside in the USA.  Among these are artists who began their careers in Cuba, Belarus, Brazil, Mexico and Korea.  The international reach of guest artists reflects the diversity and character of Houston.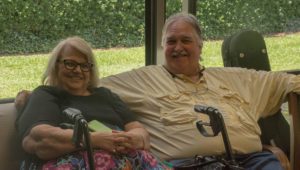 Governance
The Corporation is governed by a Board of Directors that determines the Corporation's mission, ensures effective organizational planning, provides adequate resources, and effectively manages those resources. Members of the Board are active in business, philanthropy, education and service. All have a love and appreciation of the classical guitar as an instrument. An Advisory Board augments the Board of Directors.