The Gulf Coast Guitar Association (GCGA) is a nonprofit organization dedicated to classical guitar in the Houston, Texas area.  Our vision is to become a leading organization in the greater Houston area promoting and facilitating education and outreach for the classical guitar.
Our belief is the GCGA can be a leading organization by creating a sense of community through a diverse series of programs and by promoting the fine arts.  The community impacted by GCGA programs includes musicians, educators, and non-musicians alike:
Students and teachers in K-12 guitar programs in the Houston area
Community College guitar students and teachers
College students from surrounding areas (as far as Dallas, Austin, San Antonio, Louisiana)
Adult (young and old) amateurs playing/studying classical guitar
Non-musician public of all ages (possible future guitar students, concert goers)
Patients and staff in hospitals
Older adults in retirement communities
Our vision is to expand the awareness in the community of GCGA as an artistic and cultural entity.  We support Houston arts from the ground up in order to support guitar education and guitar performance in Houston.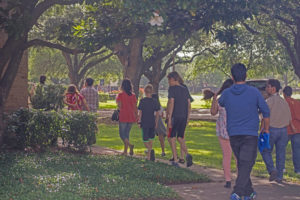 The GCGA promotes lifelong learning in the arts for all age groups from the youth in Houston area schools to older adults living in retirement communities.  We provide a classical-guitar-based outreach program to the greater Houston area and we believe all students should be able to participate in music education, regardless of economic status.  Socioeconomically challenged students are provided full scholarships to participate in the Houston Classical Guitar Festival and Competition (HCGFest). These scholarships have facilitated the students' dedication to music and development of the discipline needed to become successful in core academic areas. Our vision is to provide the opportunity for music education regardless of age or socioeconomic status.
We strive to fully utilize the potential of the Houston Classical Guitar Festival and Competition to serve the Houston community. This includes making HCGFest a sought after festival by attendees (students, competitors, audience) and invited professional guest guitarists.  We believe this will be accomplished by providing an artistic festival of high caliber with guest artists that move, excite, inspire our audiences.
The cultivation and development of HCGF participants' technical proficiency and overall musicianship is crucial to the fulfillment of an integral component of the HCGF mission; education. Thus, our music theory courses, masterclasses, workshops, and guitar orchestra rehearsals serve to help participating guitarists grow into increasingly well-rounded guitarists and musicians. The artistic and educational programs support our vision of growing the level of local, national and international participation in the HCGFest annually.
The Houston area community is exhilarated by concerts provided by renowned artists from throughout the USA and from abroad.  Our vision is to provide Houston and the surrounding areas the type of artistic programming and educational opportunities that every city needs and deserves.  While there are other music organizations that bring fine arts to Houston, the city could and should have a thriving classical guitar organization to serve the community.  Our vision is to bring to Houston the most prestigious classical guitarists and educators from around the world to fill a niche to hear and learn from artists of the highest caliber.
Follow GCGA on Social Media